Investing is one of those things that most of us stick in the "stuff I'll have enough money to do later" file. We see investing as something you do when you aren't broke af.
The best time to start investing is now, while you're still young enough to recover from mistakes — and while you have time on your side. It seems like a hopeless situation. You should put your money to work, but you don't have enough money to buy a couple hundred shares of Apple stock.
If you think you don't have enough money to start investing, the good news is that you're probably wrong. Even when you're broke, chances are you can invest.
Use a company retirement plan.
Now that you've got a real job, there's a good chance that you have the option to contribute to a retirement plan offered by your employer. Many of us don't think of putting money in a 401(k) as investing, but it is.
Talk to HR, and have some of your money diverted to a 401(k). If your company offers a match, that's free money that you can use to invest. You won't miss what you never see, which is why an automatic contribution from your paycheck is one of the best strategies when you want invest when you're broke.
Make dollar-cost averaging your bae.
The idea behind dollar-cost averaging is that you take a set amount of money each month (and you can start investing with as little as $25) and invest it. Buy as many shares as you can with that money. Dollar-cost averaging is especially effective when you use your money to purchase low-cost index mutual funds or ETFs.
Index funds and ETFs take all the work out of picking stocks. You get access to a section of the market, so the diversification is taken care of and you don't have to worry about what happens when you choose wrong. I'm boring as hell when it comes to investing because I'm still into indexing. It's how I roll.
If you're putting money aside in a 401(k) from your paycheck, you're already dollar-cost averaging. If your company doesn't have a retirement plan, you can still open your own. Many companies will let you open an IRA and put in as little as $50 per month (or even less). Make it automatic and you won't have to think about it.
Over time, you'll grow your portfolio through consistency.
DRIP it up.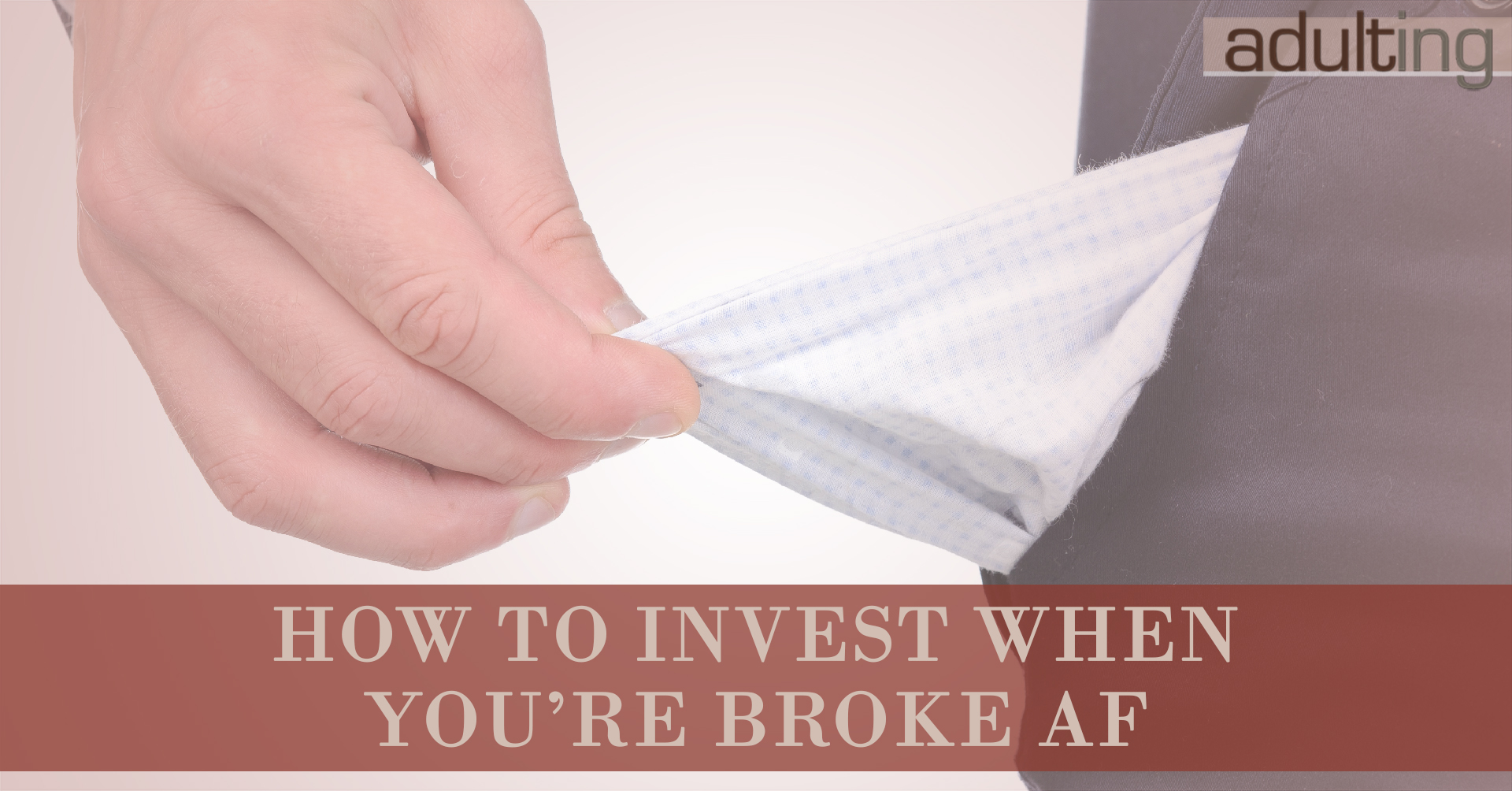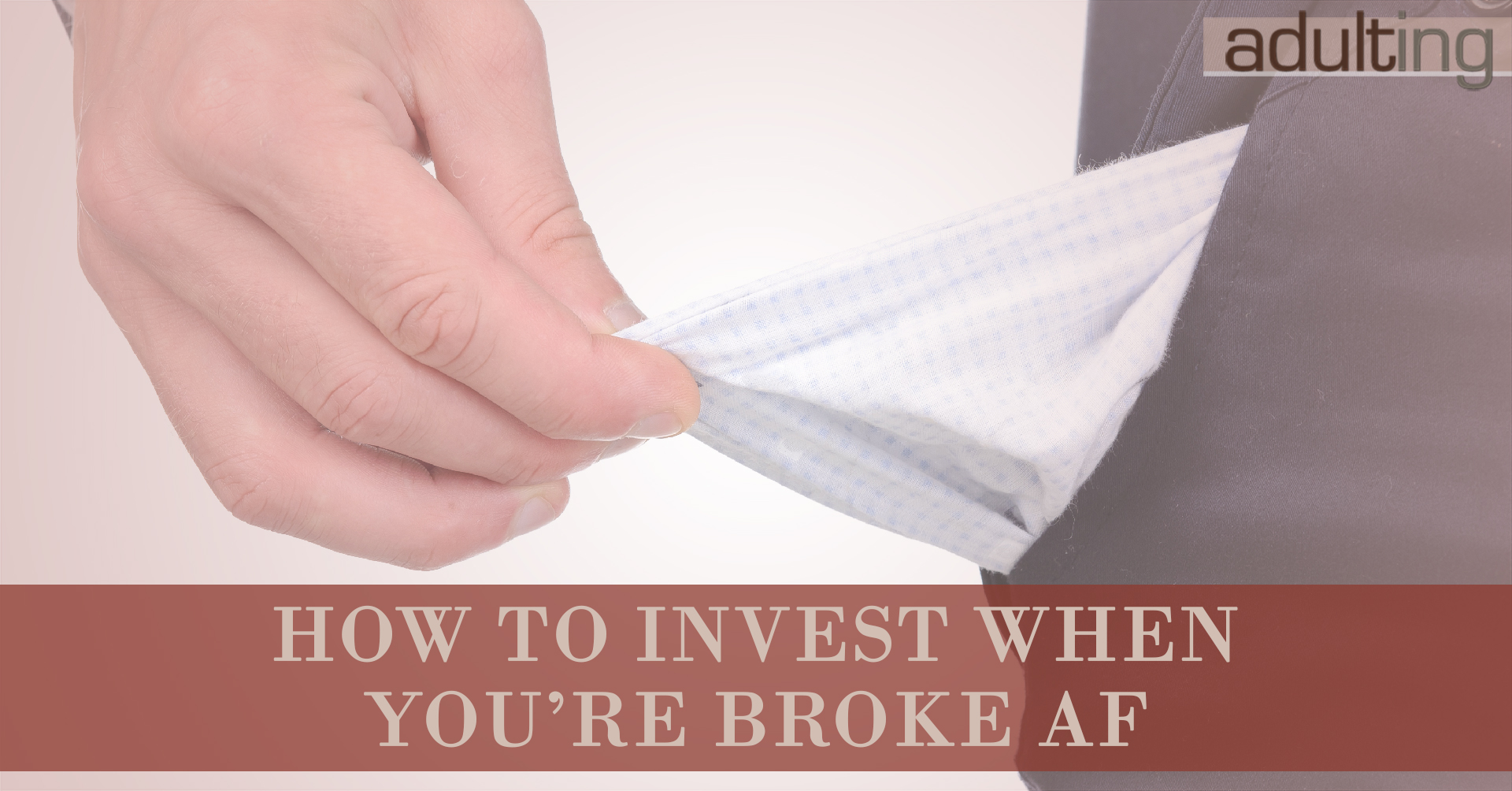 I like to invest in index funds and ETFs that pay dividends and automatically invest them. Many brokers and companies offer DRIPs, or plans that take dividends paid out to you and automatically use the money to buy additional shares.
Investing in dividends makes sense because dividends are payouts companies make based on the number of shares you own. Use DRIPs to automatically buy more shares, and your next payout is larger. You can buy more shares and then get a bigger payout. It's a beautiful cycle. My decision to use dollar-cost averaging with DRIP funds is the reason that my portfolio kept growing, even during the Great Recession.
TBH, DRIPs seem pointless at first, especially if you invest when you're broke. Who cares if you got a 20-cent payout? With automatic reinvesting, though, the cycle continues and eventually, as you stick with the dollar-cost averaging to buy more shares, and as your payouts get bigger, everything builds on itself.
Use your pocket change.
If you are absolutely certain that you can't spare $50 a month for investing, consider using Acorns. This app connects to your bank account and automatically rounds up your recent purchases and puts the difference in an investment account. The fees aren't my favorite, but if you aren't investing at all, and this will get you started, it's better than nothing. This is a good way to at least get started.
You can also use the myRA if your workplace doesn't offer a retirement account, or if you work part-time and aren't eligible for your employer's plan. You can contribute as little as $5 per paycheck to the account.
Commit to your money.
Once you start investing, look for ways to invest more. Don't forget to increase the amount you invest as you earn more and climb the career ladder. The spare change you invest now won't fund your future. But it will give you a good start and help you start a habit that can benefit you for the rest of your life.
Like what you've read?
Join other #adults who receive free weekly updates.
For a limited time
you'll receive our new book,
The Best Bank Accounts for Adults,
when you sign up!
How to Invest When You're Broke AF
was last modified:
May 22nd, 2017
by