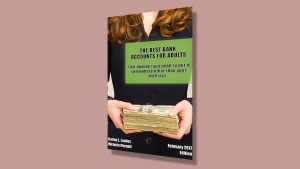 Introducing the first book from the Adulting.tv team: The Best Bank Accounts for Adults: That Moment You Need to Put It Somewhere Other Than Your Mattress.
This book gives you a head start on making the most of your financial life with tricks and tips for finding the right bank account for you. The book is updated on a monthly basis with the latest information that's will help you succeed right away.
For a limited time, the digital edition of the book is available for FREE.
Why do you need this book?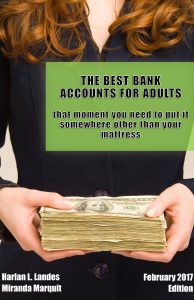 Checking and savings accounts are the building blocks of your financial success. The earlier, a person opens a bank account in their life, the more likely he or she will advance forward and improve his or her station in life. You cannot move from poverty to middle class without making the right financial choices. You can't move to the upper class without bank accounts and investments.
Not only that, but if you make BAD choices with managing your money, there is a better chance you will lose it. The Best Bank Accounts for Adults provides the context you need for opening the right savings and checking accounts, and also highlights the best options available for you.
Who are the authors?

Harlan and Miranda have three decades combined in experience watching and writing about the financial industry. Their advice has been trusted by millions. Harlan created the first personal finance blog through which he recommended the best financial products. He also founded the Plutus Awards, which highlights more financial products based on the survey of some of the best writers in the financial media.
Miranda has been a freelance writer for over a decade, focusing on personal finance. Her advice has appeared in the Huffington Post, Seeking Alpha, Banks.com, and H&R Block. She is also the author of Confessions of a Personal Finance Blogger.
What do I get?
You will receive, for FREE, ALL new editions of The Best Bank Accounts for Adults. I LOVE giving stuff away. I think just about EVERYTHING on the internet should be free. But in order to keep doing what we're doing, we will be selling the books we write. For NOW, though, and for limited times here and there, we will offer most, if not all, of it for FREE.
The financial industry is always changing. Future editions of this book will have additional guides, up-to-date interest rate information, and MORE! But future editions will NOT be free. Download the digital copy TODAY.
ALSO, you'll receive a free weekly(ish) newsletter that helps you in ALL aspects of your life: money, career, and relationships! You can cancel at any time. (But WHY would you want to?)
Just complete the form and check the option to download the FREE eBook.
Like what you've read?
Join other #adults who receive free weekly updates.
For a limited time
you'll receive our new book,
The Best Bank Accounts for Adults,
when you sign up!
Book: The Best Bank Accounts for Adults
was last modified:
January 27th, 2017
by