Paying bills sucks.
But proper adulting means you need to stay on top of your bills. Dominate them. Paying your bills on time can help you with your credit, and it ensures that you still have access to things like a place to live, your cell phone service, and electricity.
Your life will suffer if you get caught too far behind. When you don't pay your bills, you can lose your apartment or house and all the other services you pay for. If you want to make your own decisions and live your life on your terms, you also have to be responsible and handle the business of paying bills.
You don't have to do it on your own, though. Here are a few tools that can help you stay on top of your bills.
1. Make it automatic.
One of my favorite tools is automation. So many companies will let you automate you bill pay. My cell phone, Internet, car loan, and rent payment are all automated. Grocery delivery? Automatically taken care of each week. Same for the delivery from the dairy. Many power companies also set up recurring billing. I was even able to set up recurring automatic payments for the medical bills I incurred earlier this year.
The main downside to automation is that you have to stay on top of your bank account. If the money is coming out of your bank account, you need to make sure the money is in there and available. I like to use credit cards for most of my automated payments. This gives me a little breathing space when it comes to paying.
2. Use just any personal finance software.
If you aren't tracking your spending and planning your bills, there's a good chance you could wind up in trouble. Use personal finance software to track your income and expenses. You can also use it to plan ahead and test out how your bills will impact your cash flow later in the month.
My personal finance software (Moneydance) allows me to set up reminders and automatic transaction entries so I can look ahead and see what bills are coming up. You can also use your own personal finance software to remind you when bills are due.
3. Check out a calendar app.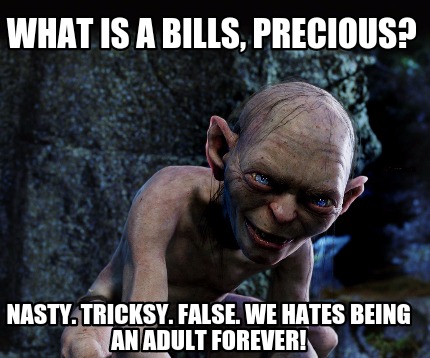 There are plenty of calendar apps to set up reminders that can help you stay on top of your bills. Google Calendar and iCal from Apple are both good examples. If you do use these apps to pop up reminders for bills, set them to remind you at least 10 days in advance. You want to allow plenty of time for you to make your payment.
Whether you automate, schedule payments ahead of time, or write a check (really, though, who DOES that?), it's important to look in and make sure everything is squared away. A little calendar reminder can be just the thing to keep you on top of the situation.
4. Designate a specific bill-paying time.
Pick a time of the week or the month to sit down and take care of money matters. I'm to the point where I mostly just check things out once a week. I have a specific time on Sunday (my least busy day) where I look into my accounts to ensure that there are no fraudulent purchases. Then I look in my personal finance software to see what bills are coming up. I verify that they are still on automatic withdrawal and that everything is on point. It takes me about 10 to 15 minutes.
Picking a time to have a sit-down with your money can at least help you pay all the bills due that week. You can also pick a bill-paying day and get everything paid for the whole month. Then you only have to worry about it one time each month, and that can help stay on top of your bills without a great deal of stress.
5. Ask for new due dates.
As you track your spending habits, eventually you'll notice that sometimes it just doesn't work out with due dates. Your bill due dates may not mesh with when you have money coming in from your job. If you contact your service providers, you might be able to choose your own due dates. Choose dates that allow you to get money in the bank so it all works out.
Paying bills is never fun, but it's part of what you have to do as a proper (or even not-so-proper) adult. With a little help, though, you can get it done on time.
Like what you've read?
Join other #adults who receive free weekly updates.
For a limited time
you'll receive our new book,
The Best Bank Accounts for Adults,
when you sign up!
Tools to Help You Dominate Your Bills
was last modified:
January 13th, 2017
by