This is the second in an ongoing book review series we're doing here at Adulting. If you have a book you'd like us to review, or if you're an author with a book you'd like us to review, please let us know! We'll consider all submissions but cannot guarantee that we'll select yours.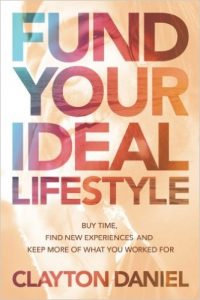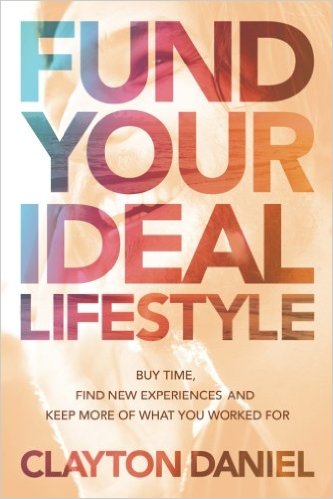 Today we're talking about Fund Your Ideal Lifestyle by Clayton Daniel. Clayton is a former financial adviser who realized, after talking with his clients, that people wanted more choice and freedom in how they use their money. Based on his personal and professional experience in creating ideal lifestyles, his book (and accompanying website) was born. Bonus: if you go to his website, you can download the first chapter for free!
Listen to our recent interview with Clayton Daniel!
Unlike most motivational lifestyle books, this one encourages you to decide for yourself what your ideal lifestyle looks like. He doesn't bang the retire early drum or force you to travel the world; he recognizes that not everyone has those goals. But he wants you to identify what your goals are so, throughout the book, he guides you through a series of exercises to determine exactly that. Because once you know what you're trying to achieve, you can set up your money and your choices to make it come true.
Money, and how you manage it, is the crux of the book. As an advocate for reducing decision fatigue, Clayton presents his 5 bucket system as a solution. The system involves automating as many decisions as possible so that you can give your energy and attention to what's actually important. Knowing that your rent money will automatically be paid on the due date or that your discretionary spending money will appear in your account relieves you of the reminders and the pressure to do so. And for those who are leery of not having control? He maintains that every decision regarding the automation is left in your hands; not one choice or movement is made without you authorizing it.
It's essentially using the banking and bill payment features already at our disposal to our advantage. He just gives the push to do it.
Also in his automation strategy is investing. As a warning: there's a lot about investing in this book. Clayton makes a strong case that investing is the best way to create wealth and fund your ideal lifestyle. The information is logical and easy to digest, and he infuses it with humor and examples to lighten up the dryness but still. Investing is boring. Necessary. But boring. Fortunately, you can always skim it on the first read and then reread each section one at a time when you're ready for it. This isn't a one-sitting book, and it's not a one-read only book.
Now you're probably thinking that there's dozens of books like this one. What separates this book from others in its genre and why should you read it instead? Well, it has personality. It's not a dry, boring book. It's filled with humor (especially in the footnotes — not since Jen Lancaster's books have I been so entertained by footnotes), subtle pop culture references, personal anecdotes that both tell stories and make him relatable, and it has its version of Cliffs Notes at the end of each chapter. Think chapter summaries but focused in helping you use the information effectively. The exercises he has throughout are thought-provoking and useful as well.
The book also doesn't present itself as the only solution to your problems. It presents itself as one, although highly effective, solution. The lack of arrogance combined with a genuine desire to help the reader certainly sets it apart.
These are the important Adulting takeaways.
Automate your finances to reduce decision fatigue.
Determine what's important to you and spend your money on those things.
Having discretionary money (and spending it) is okay!
Ask yourself "what's my purpose in life", a vague but important question.
Everyone's definition of ideal lifestyle is different.
Spending and saving are fluid. Goals change and how you use your money should reflect those changes.
Invest, invest, invest.
Like what you've read?
Join other #adults who receive free weekly updates.
For a limited time
you'll receive our new book,
The Best Bank Accounts for Adults,
when you sign up!
Review: Fund Your Ideal Lifestyle by Clayton Daniel
was last modified:
September 12th, 2017
by