Subscribe to the Adulting.tv YouTube Channel!
We have two video series to offer.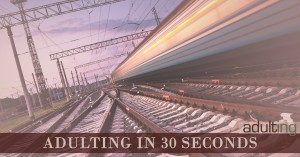 Check out Adulting in 30 Seconds, a video series with fast ideas about a variety of topics.
Recent episodes include "Retire a Millionaire in 30 Seconds" and "Have a Great First Date in 30 Seconds."
And for a behind-the-scenes look at our podcast, take a look at our podcast video clips, with excerpts from each episode.
Like what you've read?
Join other #adults who receive free weekly updates.
Sign up today
and you'll get a first look at our new book, scheduled to be released later this year!
Adulting Video Clips
was last modified:
October 24th, 2016
by