Already tired of the cold? Feeling like the holidays didn't give you a real vacation?
Well, there's a remedy for that. Plan your next vacation. Even better, actually travel during the month of January. According to research from different sources, January 2018 is supposed to offer the cheapest flights of 2018.
Cheapest flights in January.
According to travel search engine Skyscanner, January is expected to be your best bet if you want to book the cheapest flights for 2018. According to the website, you can find domestic flights for 16% cheaper than the yearly average. International flights can cost up to 36% less. (Planning to travel overseas? Check out our guide to Global Entry.)

By the time we get to March, though, there's a good chance that the savings will evaporate. So, even if you aren't planning to go anywhere in the next few weeks, now is still probably a good time to book your travel for later in the year. I already know that I'll be flying a little later, and I've found some pretty good deals already.
So, if you hope to land a good deal, what can you do?
National Shop For Travel Day.
The Travel Tech Association is pushing for a National Shop for Travel Day, which will fall on January 9, 2018. Going forward, the Association hopes to hold this day on the second Tuesday of January.
The idea is that many outlets will be offering killer deals on travel. So, you might be able to find amazing trip deals on your next vacation. I assume the powers that be picked a Tuesday because, according to research, that day of the week (and Wednesday) is one of the least expensive when it comes to finding the cheapest flights.
Buy 54 days before the scheduled flight.
Now, it is possible to find last-minute deals on flights — if you aren't too picky about the times involved. According to a study by CheapAir.com last year, you can save money by purchasing your flight 54 days ahead of its scheduled departure. Of course, this is just an average, and the situation tends to fluctuate based on time of year.
However, if you are looking to travel in early March, it might be just the thing to book your travel in January to find the cheapest flights. I'm getting ready to do a little spring break travel with my son, and I'm deciding between driving and flying. If I can find a great deal in the next couple of weeks, it might be worth it to fly and then rent a car.
CheapAir.com did provide a handy guide to figuring out your best chance for cheap flights, depending on the time of year: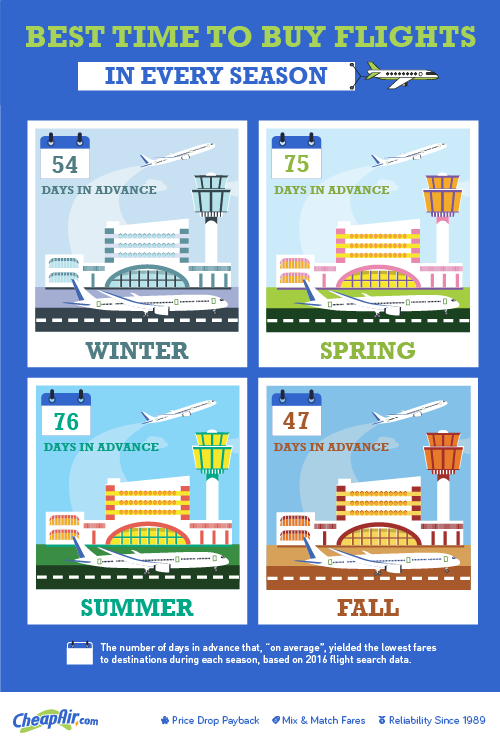 If you buy anytime between 21 and 105 days in advance, you have a pretty decent chance of finding good prices. I found it interesting that booking more than six months out means higher prices. "First dibs" apparently doesn't provide you with the best deals.
Of course, there is no magic formula that will get you the best deal every time. When you book, the days you travel, and whether you go off-peak all matter. So you need to employ strategies that allow you the best chance of finding the cheapest flights.
Set airfare alerts.
You don't have to keep going back to search for airfare day after day. It's possible to set airfare alerts. Many travel aggregators allow you to set airfare alerts when prices drop. You can figure out a route (or if you're flexible, a few) and then receive notifications right to your email inbox.
Another way to use alerts is to follow the #airfare hashtag on Twitter. A lot of the time you see sales and super cheap rates that exist for a few hours before disappearing.
#Airfare Deal: [Hawaiian Air] Phoenix – Honolulu, Hawaii (and vice versa) $357 roundtrip. Details: https://t.co/ir5RX67EHP #travel cheapest since 2013. nonstop service.

— The Flight Deal (@TheFlightDeal) January 4, 2018
You can also bookmark a few of your favorite websites and check regularly to find deals.
It's important to be flexible since many of the best deals are between specific locations. I almost never get access to amazing deals from my hometown of Idaho Falls. However, if I'm willing to drive to Salt Lake City, I can usually find some pretty decent savings on my airfare.
Fly when nobody wants to.
This was touched on a little bit earlier, but it's worth repeating. If you want the cheapest flights, you need to fly when no one else wants to. I was able to get one-way tickets to Philadelphia during the holidays at a discount of $200 apiece by taking an overnight flight. It wasn't super fun, but it did save me $400.
On the return trip (from Albany, NY), my son and I left on a 6:10 a.m. flight. On New Year's Eve. Also not a lot of fun. However, flights for New Year's Day at a more reasonable time cost $300 more per ticket. That's a big swing in price. Overall, by flying at shitty times no one else wanted, I managed to save $1,000 on air travel for my son and me.
Use your rewards and loyalty programs.
Join a frequent flyer program connected to a major credit card rewards program and watch the miles add up. I was able to get some decent discounts on my holiday travel, so I didn't use my rewards points.
Earlier in the year, though, when my son and I traveled during the summer, I used airline miles to get free flights. It was the perfect way to save money on airfare without the need to alter my regularly budgeted spending.
I like to boost my total rewards by shopping for airfare online using Swagbucks in concert with other programs.
For example, I am part of the Delta SkyMiles program, and I have a branded credit card for that program from American Express. I also get Orbitz rewards and Swagbucks gives me extra back when I shop through Orbitz, thanks to the browser plugin I have. By booking a Delta flight on Orbitz using my AmEx credit card, I get extra points for my flight cost, plus I get rewards with Swagbucks and Orbitz. It's like quadrupling up.
Later, I can use the rewards to book free flights. (I use a similar strategy when I book a hotel.)
Saving once you get to your destination.
Of course, the cheapest flights can save you money so you can spend more when you get to your destination. But if you want to save, you can look for ways to spend less.
Websites like Airbnb (interestingly, Airbnb is a Delta partner, so that helps me when I'm stacking rewards) and VBRO allow you to get great prices on lodging — especially if you are looking for a more long-term stay.
If you stay long-term, it can be a good idea to do some grocery shopping. When my son and I were traveling across Canada a couple summers ago, we often went to a local grocery store to buy items to do our own cooking. It was healthier and it saved us money since we weren't always eating out.
You can also find good deals on rental cars with companies like Enterprise and Hertz.
I also find it helpful to look up Groupons for the destination city so that I can get discounts on activities. Often, I find two-for-one deals that are perfect for my son and me. CityPass is another great way to see the sites for one low price.
As you figure out little tips to save money on the cheapest flights and on things to do when you get to your destination, you might discover that you can travel much cheaper than you thought — whether you plan your trip in January or wait until another month.
Like what you've read?
Join other #adults who receive free weekly updates.
For a limited time
you'll receive our new book,
The Best Bank Accounts for Adults,
when you sign up!
January Gets the Cheapest Flights So Book Your Next Vacay Now
was last modified:
January 5th, 2018
by