"Follow your bliss."
"Do what you love, and you'll never work a day in your life."
What does any of that mean?
Sure it would be nice to just hang out having fun and making money for doing whatever. The reality, though, is that most of us have to work for a living, and even if we love what we do, some days are just crappy.
As much as I enjoy writing, there are days I just don't really "feel" it. But I do it anyway, because I like eating, and I think my son should wear clothing to school. Does the fact that some days aren't bliss-filled and there are times I have to write shit I don't care about mean I'm on the wrong path?
Of course not.
The real key is figuring out what my bliss happens to be and then incorporating that bliss in my life. That's the journey I'm on right now. Rather than setting a bunch of quasi-meaningless goals for the new year, I'm making this a time of exploration for me. What do I want my purpose in life to be? How can I figure it out so I can follow my bliss?
Map it out: What does your bliss look like?
If you want to follow your bliss, the first step is to think about what it looks like. And be honest: would you really be happy lying on a beach somewhere doing nothing all the time? I know I wouldn't be. Inspired by Harlan's life map, I created my own.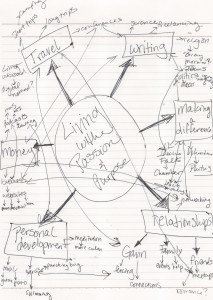 I named my map "Living with Passion and Purpose" because I decided that my bliss involves things that allow me to follow some of my passions while also living with a sense of purpose.
Many of us like to feel as though we can make a difference. Chances are, when you think about how to follow your bliss, part of that is working in a capacity that allows you to help people, whether that means volunteering or cultivating career opportunities that allow you to feel as though you are contributing to something worthwhile.
One of the reasons that phrases like "follow your bliss" get so much play is due to the fact that, for most of us, money isn't the driver that makes life interesting.
Here is what Rosabeth Moss Kanter at Harvard discovered about what makes work worth doing:
In research for my book Evolve!, I identified three primary sources of motivation in high-innovation companies: mastery, membership, and meaning. Another M, money, turned out to be a distant fourth. Money acted as a scorecard, but it did not get people up-and-at 'em for the daily work, nor did it help people go home every day with a feeling of fulfillment.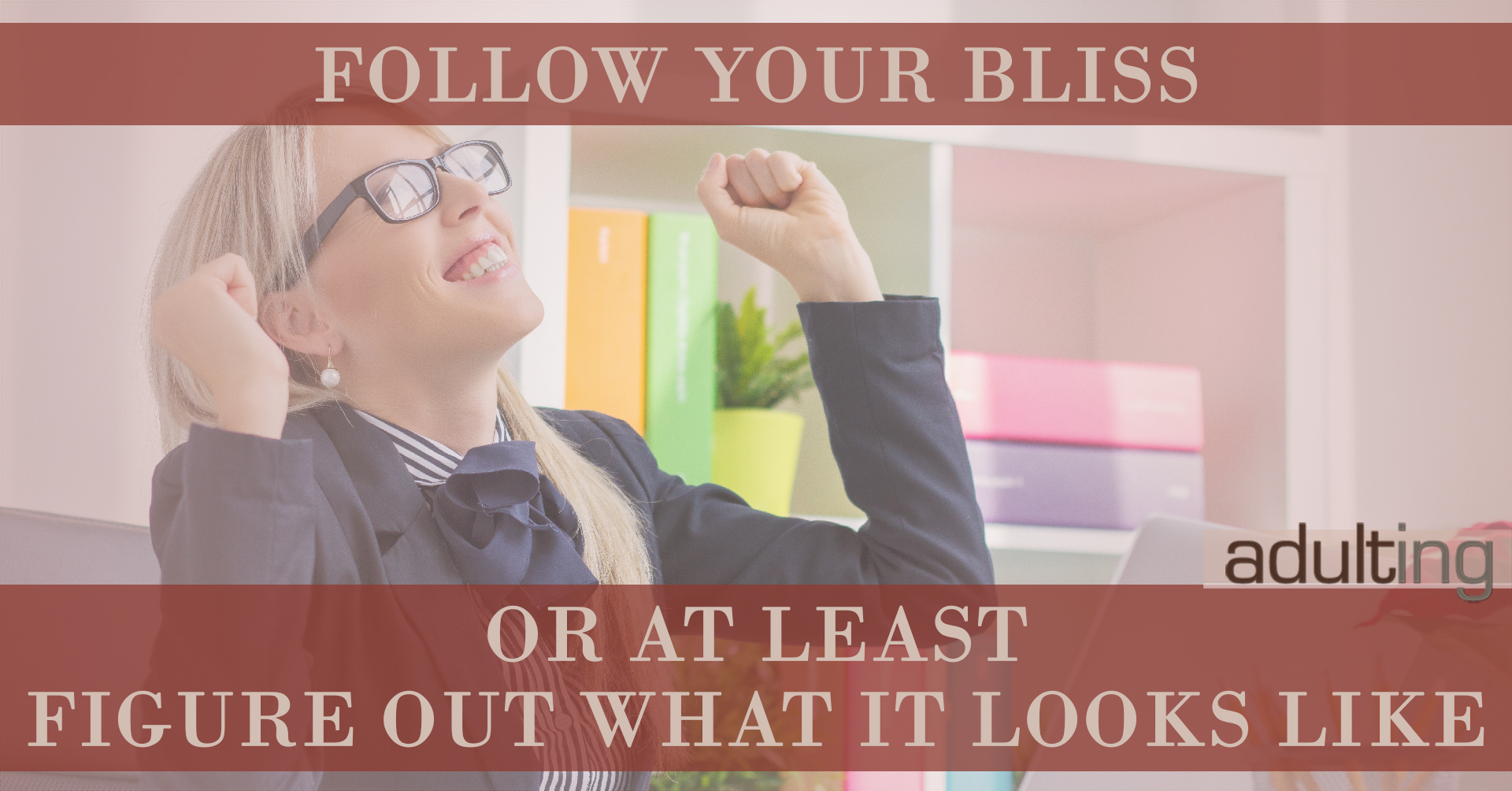 Money is on my map, but mostly as a subject I write and podcast about — as well as the Thing that allows me to follow all my other interests. Chances are that money isn't your main motivator, either, even if you don't have same passions I do or hope to impact the world around you in the same way. (I prefer small-scale, local efforts.)
You can figure out what your own bliss looks like by going through the exercise of creating a life map as well. Sit down and think about the kinds of things you would be doing for work and in your leisure time if you were able to follow your bliss.
Add bits of bliss to your life.
Once you know what your bliss looks like, you can start adding it to your life. It doesn't mean that you have to drop everything you're doing right now to follow bliss. You can start looking for meaning in what you do, even if it is a crappy job.
Find other ways to add purpose to your life. Start a side gig. Volunteer. Take music lessons. Play with your kids. Netflix and chill. Join a book club. Spend the night in a hotel. Look for a way to make a small change that adds to your quality of life.
A few years ago, when I felt trapped in my life, I made time to take guitar lessons. For half an hour each week, I met with a teacher. I practiced for 15 to 20 minutes each day. Is that enough to become a good guitar player? Nope. But it's enough to find some enjoyment and passion in the day, learn something new, and get to the point where I can accompany other people. It wasn't much, but it added something to my life — a spark of joy.
Little by little, reduce the amount of time you spend on things that don't bring you happiness and shift toward what adds purpose and passion to your life. This might take some time to accomplish since it might include some gradual career changes along the way. You don't have to upend your life to follow your bliss. And you don't have to stop what you're doing just because you have a bad day.
Look for the little ways to enjoy life, and you'll be surprised at how it all adds up until eventually you really do get to live the life you (mostly) want.
Like what you've read?
Join other #adults who receive free weekly updates.
For a limited time
you'll receive our new book,
The Best Bank Accounts for Adults,
when you sign up!
Follow Your Bliss — Or At Least Figure Out What It Looks Like
was last modified:
January 13th, 2017
by