The only way to be truly free is to start your own business and quit the 9-to-5 grind.
Have you heard that before?
It's become a common theme in recent years. In some circles, the idea that you must become an entrepreneur with the goal of quitting your traditional job is so prevalent that there's a patina of shame attached to having a real job.
I love working from home. I wouldn't give it up. I haven't had a real job in more than a decade — and wouldn't trade a second of it. But that doesn't mean that my path is right for everyone.
Before you decide that you need to do everything in your power to build a business that allows you to escape the rat race, stop and think about whether or not it's really the way for you to go.
If you decide a traditional career is the right path for you, don't let someone else shame you into quitting your real job.
What if you like your real job?
There are plenty of people who like their jobs. And there's nothing wrong with that. Most of us just want to feel like we're doing something meaningful and that we're appreciated. If you have a job that lets you do that, and you like it, there's no reason to give it up for a freelance lifestyle or the uncertainty of trying to establish a company from scratch.
Take a look at your career. Do you like what you do? If you don't, can you retrain to do something that you like better? Do you feel like you're moving forward? If so, there's no shame in having that real job. Stick to it, and be proud of what you do.
The 9-to-5 lifestyle has perks.
Entrepreneurs and lifestyle business gurus might not believe it, but there are perks associated with a 9-to-5 lifestyle.
First of all, it's hard to underestimate the joy of a great benefits package. Health insurance, when not subsidized by your employer, can be quite expensive. I know. I spent 10 years paying for my own health insurance. Now, my new employer, Student Loan Hero, offers a monthly stipend for health and wellness. It's not quite the same thing, but it's a total upgrade from my previous complete lack of benefits.
Plus, when you contribute to an employer's retirement plan, there is a chance that you will end up with a match. Now that's a perk. Free money, growing in a tax-advantaged account.
Another perk of a real job is the fact that you can clock out and leave your work at work, rather than bringing it home all the time. I know folks who just want to turn it off, enjoying family, relaxation, and friends when they get home from work. That's harder to do when you have your own business. In fact, I have to make myself step away from the work. There are days I find myself daydreaming about a real job and what it would be like to just clock out.
Depending on your employer, you might receive other perks, like:
Paid time off for vacation and sick days
Child care stipend
Gym membership or discount
Access to company car and/or phone
Enjoying the perks of a regular job is nothing to be ashamed of. If you like it, prefer the convenience, and just like knowing what's going on and when it's happening, stick with the job. Don't feel like you have to give all that up to meet someone else's idea of what you "should" do in order to achieve financial freedom.
Understand the dark side of self-employment.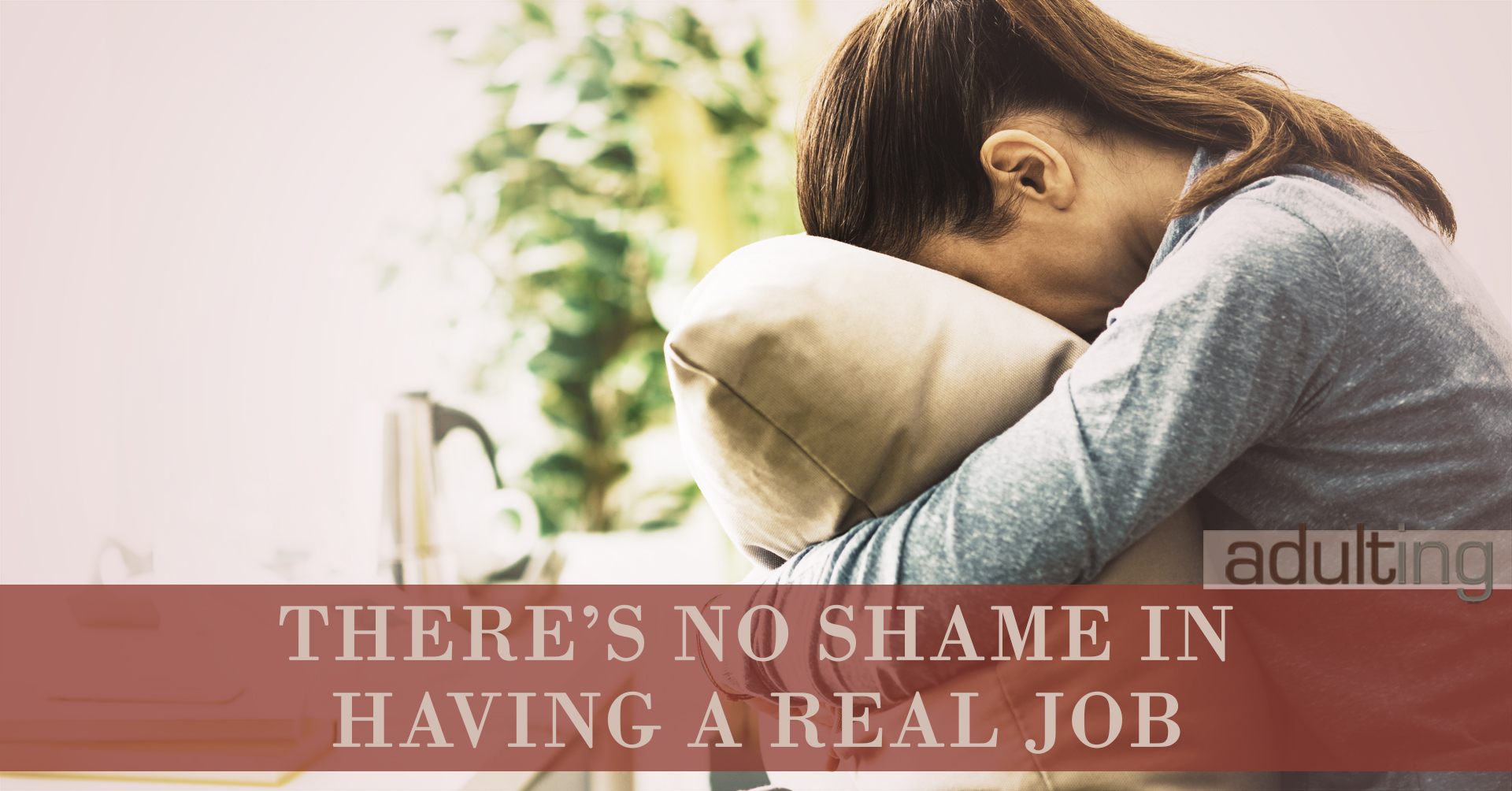 Before you make your decision, make sure you consider the dark side of self-employment. I love working from home. I value the freedom and flexibility too much. But there are times that it can be stressful, and I dream of simpler times.
When you're self-employed, everything's on you. If you don't work, you don't get paid. You need to be on top of your game and work even when you don't feel like it. There's no calling in sick when you're on your own.
You might also be at the mercy of a client if you are in a position where you need the money. I remember times when I put up with all sorts of shit from clients. I needed the money. Today, I don't have that issue. But it took some time to get here. If you're going to be self-employed, you need to be prepared to work hard and sometimes do stuff you don't want to do.
Finances can get dicey as well. You're in charge of your taxes, including both ends of the payroll tax. Income isn't always the same each month, so you have to be able to plan for down months. From putting together your own benefits package to figuring your taxes, you need to be ready. Don't forget about the overhead that comes if you get an office offsite and if you hire someone to work for you as you expand.
While there is no way I would give up my situation, there are times I struggle. Go in with your eyes open if you decide to ditch the real job and join those of us in our alternate reality.
Don't let anyone tell you they have the ONE solution.
There's nothing wrong with being self-employed and ditching the world of traditional employment. However, there's also nothing wrong with sticking with your real job if it works well for your situation and lifestyle. As long as you are careful to plan for the future and save up, a real job can be one way to ensure that you meet your needs.
Figure out what works best for you, whether you just want a side gig for a little extra cash while maintaining your day job, or whether you hope to eventually move on from the daily grind.
But don't make your decision based on feelings of shame that you aren't doing what you're "supposed" to do.
Like what you've read?
Join other #adults who receive free weekly updates.
For a limited time
you'll receive our new book,
The Best Bank Accounts for Adults,
when you sign up!
A Real Job Can Be Rewarding and Awesome
was last modified:
January 13th, 2017
by