Once in a while, we present Adulting.tv LIVE! Subscribe on YouTube to hear about future events, and share your questions about or suggestions for our next discussions!
Show Notes
Are you tired of scraping by, living paycheck to paycheck? Erin Lowry from Broker Millennial joins us to share strategies on how you can get out of your financial rut.
Erin Lowry is a millennial personal finance expert and the founder of BrokeMillennial.com. She's also the author of the forthcoming book BROKE MILLENNIAL: How to Stop Scraping by and Get Your Financial Life Together. Lowry has contributed to Forbes, Business Insider, New York Magazine's The Cut and U.S. News & World Report. Some of her insights have been featured by outlets including: CBSSunday Morning, USA Today, Wall Street Journal, Newsweek and Marketplace Money. Lowry lives in New York City with her spunky rescue dog Mosby.
Watch the live video above or listen to just the podcast audio by using the player below.
Podcast: Play in new window | Download
Hosted by
Miranda Marquit
Produced by
adulting.tv
Edited and mixed by
Steven Flato
Music by
bensound.com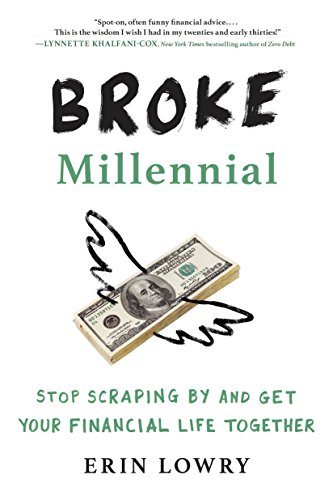 WASHINGTON POST "COLOR OF MONEY" BOOK CLUB PICK
Stop Living Paycheck to Paycheck and Get Your Financial Life Together (#GYFLT)!
 
If you're a cash-strapped 20- or 30-something, it's easy to get freaked out by finances. But you're not doomed to spend your life drowning in debt or mystified by money. It's time to stop scraping by and take control of your money and your life with this savvy and smart guide.
Broke Millennial shows step-by-step how to go from flat-broke to financial badass. Unlike most personal finance books out there, it doesn't just cover boring stuff like credit card debt, investing, and dealing with the dreaded "B" word (budgeting). Financial expert Erin Lowry goes beyond the basics to tackle tricky money matters and situations most of us face #IRL, including:
 
– Understanding your relationship with moolah: do you treat it like a Tinder date or marriage material?
– Managing student loans without having a full-on panic attack
– What to do when you're out with your crew and can't afford to split the bill evenly
– How to get "financially naked" with your partner and find out his or her "number" (debt number, of course)  . . . and much more.
 
Packed with refreshingly simple advice and hilarious true stories, Broke Millennial is the essential roadmap every financially clueless millennial needs to become a money master. So what are you waiting for? Let's #GYFLT!
$6.00 USD – In Stock
Like what you've heard?
Join other #adults who receive free weekly updates.
For a limited time
you'll receive our new book,
The Best Bank Accounts for Adults,
when you sign up!
[B020] Stop Scraping By ft. Erin Lowry, Broke Millennial
was last modified:
March 9th, 2017
by