Things have been going great: you're texting daily, flirting over social media, maybe even Netflix and chilling every now and then.
At least, you were.
Recently, the texts have slowed to infrequent, one-word responses. Your DMs don't seem to be going through. You watched The End of the F***ing World alone last weekend and spent waaaaaay too much time on YouTube.
To the objective observer, it's clear what is going on. He (or she) is just not that into you and wishes you would take the hint.
In other words, you're in the middle of being ghosted.
Or, just maybe, you've already been ghosted.
Have you really been ghosted?
Unfortunately, attraction turns even the most logical individual into an optimistic idiot.
Maybe he's just really, really busy. Perhaps she had a family emergency. You'll hear back when everything gets straightened out — but let's send another text just in case the previous 15 somehow weren't received.
While attempts to rationalize the situation after weeks of radio silence might be foolish, those feelings of hurt and betrayal are not. The act of ghosting is a growing phenomenon that can be confusing and painful for the person left wondering what happened.
But with growing reliance on digital means of communication, ghosting is becoming a popular strategy for ending a relationship while avoiding conflict. In fact, if someone thinks they can honestly avoid bumping into you for a few months (and hopefully forever), they will likely go ahead and ghost you.
We live in a world where people hide behind semi-anonymity all the time. We don't like dealing with unpleasantness, and a real, actual break-up is the definition of unpleasant.
When you're on the receiving end, though, it's brutal. Here's your survival guide for being ghosted:
Stop trying.
Sure, it's possible there are exceptional circumstances preventing the person in question from getting back to you. As more time passes, your desire to find out what's wrong increases.
You tell yourself you need closure. Can't they just get back to you and tell you why? You try to convince yourself that you'll be fine if it's over — as long as they just explain everything. After all, they owe you the courtesy.
Just stop. If they really wanted to talk to you, they would find a way. A sudden, prolonged halt in communication is a strong sign they not only want to break things off but don't respect your feelings enough to tell you in person — or at least over the phone.
Real talk: they've probably moved on to someone else (who they will likely end up treating the exact same way).
In the long-run, you'll come away with your dignity intact if you stop trying to make contact after one or two follow-ups. Obsessing over it isn't doing you any favors. It doesn't hurt them, and all it does is sap your emotional energy and bring you down. They're not worth your energy, so stop giving it to them.
And if it turns out they were trapped in an abandoned mineshaft for two weeks with no cell service, I'm sure you'll get a call as soon as possible.
Understand it's them, not you.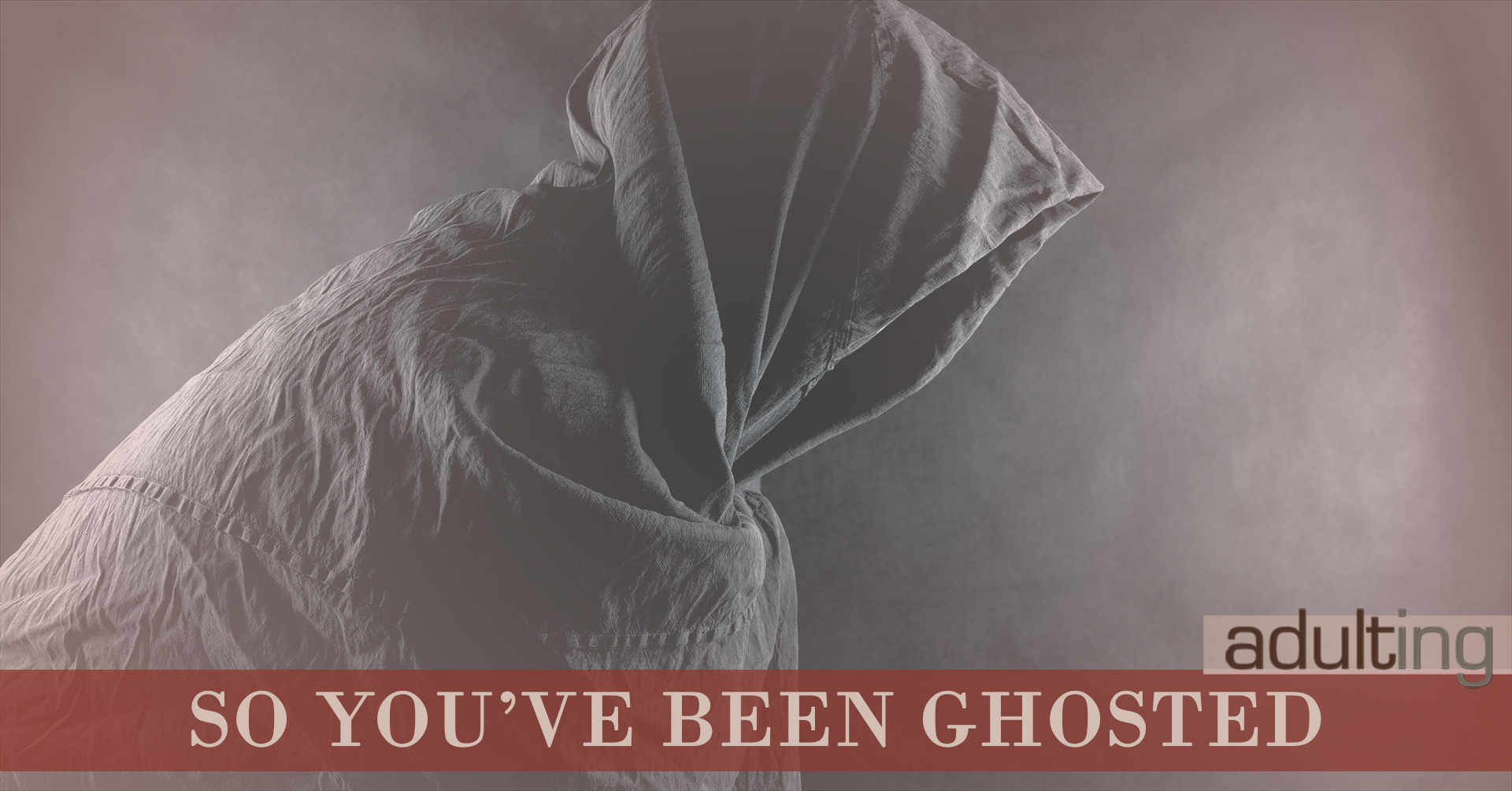 "It is a form of avoidance," said Lisa Bahar, a marriage and family therapist based in Newport Beach, CA. Bahar explained that ghosting is a behavior meant to communicate that the person doesn't want any more contact for now — without actually having to communicate.
In other words, the act of ghosting is one of immaturity. A person who ghosts is overwhelmed by either a crippling fear of confrontation or a shameful lack of empathy for others.
Either way, it's not a good look — for them.
That lack of emotional awareness would like have manifested in other ways throughout a prolonged relationship. Trite as it might sound, it's better to find this out somewhat early on, before you've put too much of your life, time, energy, and (possibly) money into the relationship.
It's important to understand that being ghosted is nothing personal. People who ghost simply lack the basic social skills that dictate we show consideration for others.
Focus on yourself.
So screw them. You are no less attractive, intelligent, or interesting because someone didn't have the balls to speak to you directly and honestly. That's their problem and it's not your responsibility to fix it.
Really, don't try to fix it.
Don't concoct elaborate emotional revenge schemes and don't think about what you'll say to them when you run into them at the bar. Don't think about how you'll teach them a lesson. It's not your job to turn someone into a decent human being.
Bahar recommended processing your feelings with a therapist or trusted confidant while giving the ghoster space.
"Avoid asking for explanations," she said, and instead find healthy outlets for releasing your frustration and anger.
Then move on with your life. After all, what's greater payback than not giving a shit?
Actually, scratch that. You don't want to even think about payback.
Instead, get to know you. Enjoy yourself doing things you like. It's ok to spend time alone and like it. In fact, you might be happier single once you get to know yourself.
Bottom line.
Adult relationships are hard. They require candor, compromise, and the acceptance that sometimes it's just not going to work out. But the hardest things in life also tend to be the most rewarding in the end.
When someone ghosts you, it's clear that they weren't willing to put in the work. Instead, if you want a relationship, you deserve to be with someone who puts in the same amount of work you do. Don't waste your time on someone who can't be bothered with your feelings.
Ghosting happens, but that doesn't make it okay. You don't like to be ghosted, so show others the same courtesy if you're not feeling it.
Don't give in to the temptation to go dark on someone just because you're afraid to talk to them. Treating others with compassion — even if the actual passion is gone — is the easiest way to receive the same in return.
Like what you've read?
Join other #adults who receive free weekly updates.
For a limited time
you'll receive our new book,
The Best Bank Accounts for Adults,
when you sign up!
So You've Been Ghosted: Here's How to Deal
was last modified:
February 17th, 2018
by